Race for State: "Big Three" look to push Catholic ahead
 One quick glance into the Knoxville Catholic High School football locker room tells you all you need to know about the talent the Fighting Irish possess.
Staring up at behemoth linemen Cade Mays, Cooper Mays and Bryn Tucker could make the bravest man quiver.
Cade Mays, a 6-foot-5, 305 pound senior offensive tackle, is committed to the University of Tennessee. He is ranked as the number one overall prospect in the state of Tennessee and the number two offensive tackle in the nation by 24/7 Sports. 
Cooper Mays, Cade's brother, is a 6-foot-2, 236 pound sophomore offensive guard. He holds offers from both Tennessee and Georgia. 
Tucker made waves last year when he was offered by the Vols before playing a down of high school football. At 6-foot-4.5 and 300 pounds, the sophomore offensive tackle has been offered by a host of other schools, including Ohio State, Alabama and LSU. 
"It's a blessing," Tucker said. "It's crazy because (UT) is like right up the street from me. I can go up there anytime and meet all the coaches. They treat me like family and I treat them with respect too."
Catholic's "Big Three" of the Mays brothers and Tucker help fill out a roster that many coaches would love to have. Fighting Irish head coach Steve Matthews hasn't let his team's value slip his mind.
"Really I'm excited about where we are," Matthews said. "We've got a a lot of college prospects and got a bunch of guys with character and high intelligence."
According to Matthews, it is Cade Mays' job to lead that squad.
"We have several really good players, led by Cade Mays," Matthews said. "He can be as good as anybody…He's a great player but also needs to make the players around him better, and I think he's doing a good job of that so far."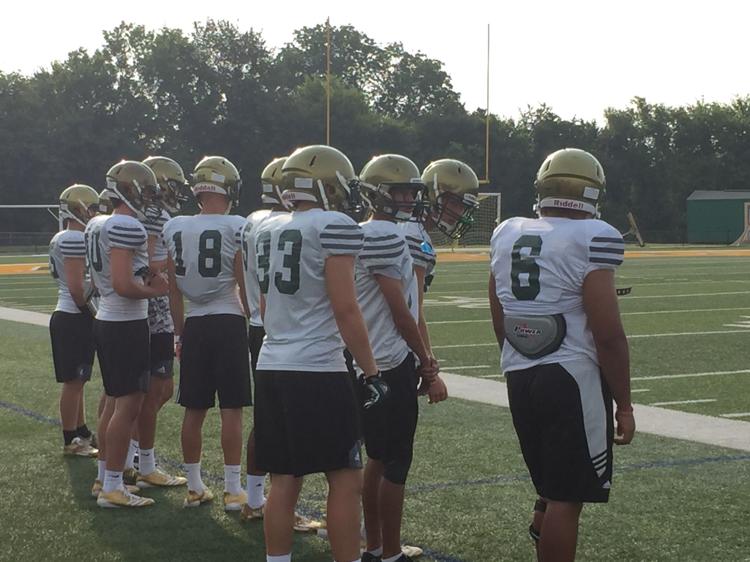 Catholic has lost playmaking wide receiver Amari Rodgers, the son of former Tennessee quarterback Tee Martin, to graduation. Rodgers is headed to Clemson University to suit up for the Tigers.
While Matthews acknowledges the fact that losing Rodgers changes the team's offense, he didn't shy away from complementing the receivers still on his depth chart. 
"He's going to be tough to replace," Matthews said. "But I do like our receiving corps. We've got some young receivers that are coming on. Cam Blakely, DaShon Bussell, Taylor Shannon, DJ Mitchell kind of leading the pack. Adam Jones has had a great camp.
"So I don't think we're going to be as explosive (without) Amari out there, but I feel like we have a very good receiving corps." 
The Fighting Irish won the state championship in 2015, then notched an 11-1 record last season and were upset by the Fulton Falcons in the second round of the TSSAA playoffs. 
Now, Catholic returns to the field with a score to settle.
"I think it gives us definitely a sense of 'We've got unfinished business,'" Matthews said. "Last year I felt like we were the best team in the state in any division. We got upset in the playoffs. I didn't have the guys prepared. That's my fault." 
And the Fighting Irish are ready to settle that score. 
"I just treat it as motivation," Cooper Mays said. "I feel like we were the best team in Tennessee (last season) and to not make it to the state, it was a big disappointment."
Catholic opens the regular season in a road game at Maryville High School on August 18. That is about as daunting of a season opener possible.
But Matthews and the Fighting Irish will be there, looking to make a deep playoff run, with their "Big Three" leading the charge.