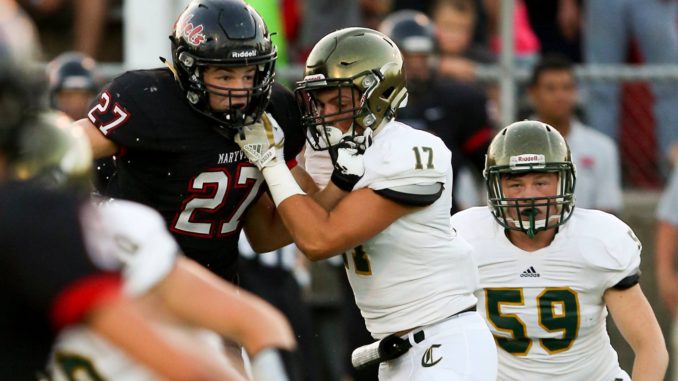 MARYVILLE Rebels (0-0)
at
CATHOLIC Irish (0-0)
August 17, 2018
Blaine Stadium/Hollin Field
7:30 p.m.
SETTING THE SCENE – Catholic opens its regular season…both Catholic (5A) and Maryville (6A) are defending state champions…Irish compete in Class 5A, Region 4…Irish play their first four games at home in 2018…Maryville leads the series with Catholic, 5-0… Maryville won last year's game, 49-42…Irish have posted five consecutive 10-win seasons…Irish have won 144 of their last 188 games…Catholic was +14 in turnover margin a year ago…Thompson is Catholic's returning leader in rushing with 218 yards…Jancek passed for 362 yards and six touchdowns in 2017…Moore is Catholic's leading returning tackler with 94…Robertson was 85-86 on extra points and 9-10 on field goals last year and is Catholic's leading returning scorer with 112 points…
THE RECORDS – Catholic was 12-3 in 2017. The Irish won the TSSAA Class 5A state championship. Maryville was 14-1 overall last year. The Rebels won the TSSAA Class 6A championship.
ON THE SIDELINE – Steve Matthews is in his sixth year at the helm of the Irish. He also serves as Catholic's offensive coordinator. Matthews came to Catholic from Seigel High School in Murfreesboro, where he served as offensive coordinator from 2010-2012. He was head coach at Moore County in 2008 and 2009 and posted a 10-11 record. He also served as QB/WR coach at Tullahoma, his high school alma mater, from 2004-2007. His overall record is 63-26, and his record at Catholic is 53-15. The Irish have reached the TSSAA Playoffs in each of Matthews' seasons at Catholic. His playoff record is 15-3, and his 2015 (4A) and 2017 (5A) squads won TSSAA state championships. Matthews played collegiately at Tennessee and Memphis. He played professionally with the Kansas City Chiefs, Jacksonville Jaguars, and Tennessee Oilers.
SEASON SCHEDULES – Here are 2018 schedules for both teams:
Catholic (0-0) Maryville (0-0)
8/17 Maryville 8/17 @Catholic
8/24 Baylor 8/24 Oakland
8/31 Open Date 8/31 @McMinn County
9/7 Cleveland 9/7 Alcoa
9/14 Soddy-Daisy 9/14 Open Date
9/21 @Brentwood Academy 9/21 @Fulton
9/28 @Rhea County 9/28 William Blount
10/5 @West Greene 10/4 Cleveland
10/12 Walker Valley 10/12 Ooltewah
10/19 Open Date 10/19 @Heritage
10/26 @Lenoir City 10/26 @Bradley Central
SERIES VS. MARYVILLE – Maryville leads the series with Catholic, 5-0. Here's a look:
2009: Maryville 28, @Catholic 21
2010: @Maryville 28, Catholic 14
2011: Maryville 35, @Catholic 7
2012: @Maryville 38, Catholic 6
2017: @Maryville 49, Catholic 42
LAST YEAR VS. MARYVILLE – Catholic opened the 2017 campaign with a 49-42 loss at Maryville. Joshua Brown, who rushed for 120 yards on the evening, put the Irish on the scoreboard first with his two-yard run. A 64-yard dash from Dashon Bussell gave the Irish a 14-0 lead after one quarter. After Maryville posted its' first touchdown, Cade Mays capped an eight-play, 80-yard drive with his two-yard run. Two Maryville scores tied the game at 21-21, but Jack Sompayrac connected with Bussell on a 57-yard scoring pass just before halftime to give the Irish a 28-21 lead at the break. Maryville scored first in the third quarter, but a missed extra point left Catholic ahead, 28-27. Brown's second rushing touchdown of the evening, this a 16-yarder, put the Irish ahead, 35-27. Two Rebel scores gave Maryville its first lead of the evening with less than five minutes remaining. Catholic quickly tied the game as Bussell, who had 147 yards on four carries, raced 67 yards to paydirt. Maryville scored its game-winning touchdown with 1:29 remaining in the contest, and a last second Sompayrac pass attempt into the Maryville end zone was batted down. Sompayrac was 16-of-20 passing for 225 yards on the evening. In addition to his rushing exploits, Bussell had five receptions for 91 yards. Catholic had 543 yards in total offense on the evening. Jake Mahoney led the Irish defense with 13 tackles. Jack Jancek had a dozen stops, while Joe Fluker (11) and Cody Duncan (10) both had double-digit tackle efforts.
REGION 4-5A STANDINGS – Here's a look at the 2018 Region 4-5A standings:
REGION OVERALL
Catholic 0-0 0-0
Lenoir City 0-0 0-0
Rhea County 0-0 0-0
Soddy-Daisy 0-0 0-0
Walker Valley 0-0 0-0
Thursday's game
Walker Valley vs. Chattanooga Central (at Finley Stadium)
Friday's games
Maryville @ Catholic
Lenoir City @ William Blount
Rhea County @ Cleveland
Soddy-Daisy @ Red Bank
RACK 'EM UP – Catholic has won 116 of its last 150 regular-season games.
FIVE FOR TEN – Catholic has posted five consecutive 10-win seasons. Here's a look:
2013: 10-4
2014: 10-2
2015: 11-4
2016: 10-2
2017: 12-3
REGION FOES – Catholic participates in Region 4-5A. Region foes for the Irish include Lenoir City, Rhea County, Soddy-Daisy, and Walker Valley.
TEAM STATS – Catholic averaged 417.5 yards per-game in total offense last year, including 218.9 yards on the ground and 198.6 yards through the air. Defensively, Catholic allowed 325.9 yards per-game, including 173.9 yards on the ground and 152.0 yards through the air. Catholic averaged 43.3 points per-game. Opponents averaged 27.9 points per-game.
MAKE IT QUICK – Catholic's offense had 24 scoring drives lasting less than one minute last season.  Ten of those scoring drives were of the one-play variety
ON THE BOARD – Catholic scored 40 or more points ten times in 2017 and scored 50 or more points four times.
TURNOVER MARGIN – Catholic was plus-14 in turnover margin in 2017. The Irish threw seven interceptions and lost 11 fumbles. Opponents threw 17 interceptions and lost 15 fumbles.
RETURNING STAT LEADERS – Here's a look at Catholic's returning statistical leaders in various categories –
Rushing: Ray Thompson (42 att., 218 yds, 2 TD)
Passing: Jack Jancek (14-24-1, 362 yds, 6 TD)
Receiving: Adam Jones (12 rec., 251 yds, 3 TD)
Interceptions: Jack Jancek (3)
Scoring: Paxton Robertson (112 points; 9/10 FG; 85/86 XP)
Tackles: Stiles Moore (94)
THE LAST GO 'ROUND – Catholic's 2018 roster includes nine seniors. Included are Xavier Story (RB/LB), Adam Jones (WR/DB), Ray Thompson (RB/DB), Adam Margolis (RB/LB), Chris Torres (RB/LB), Alec Bindner (OL/DL), Jordan Natour (OL/DL), Max Suchomski (K), and Adam Price (WR/DB).
ON THE STAFF – Serving as assistant coaches for the Irish are: Justin Anderson (Offensive Line), Sam Brown (Running Backs), Rodney Ellison (Tight Ends), Drew Franklin (Wide Receivers), Kevin Lane (Co-Defensive Coordinator/Defensive Backs), Kris White (Co-Defensive Coordinator/Linebackers), Geraud Hall (Defensive Ends), John Brewster (Defensive Tackles), Don Coffey (JV) and Tyler Teague (JV).
ON THE RADIO – Tonight's game is being broadcast on WNML, The Sports Animal (99.1 FM). John Wilkerson handles play-by-play, while former Catholic quarterback and 1999 Mr. Football winner Rob Demastus adds commentary.
UP NEXT – Catholic plays host to Baylor next Friday. Kickoff is scheduled for 7:30 p.m., at Blaine Stadium/Hollin Field.