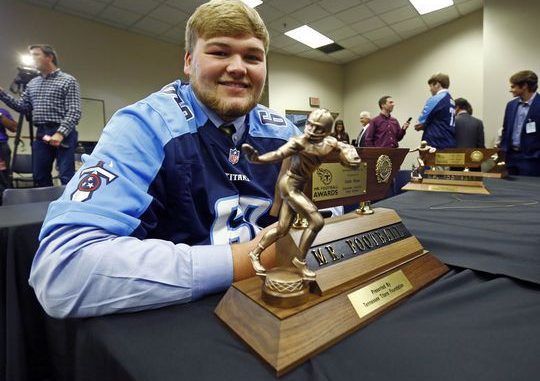 Diana C. Nearhos, USA TODAY NETWORK – Tennessee
Published 1:16 p.m. ET Nov. 27, 2017 | Updated 5:41 p.m. ET Nov. 27, 2017
Congratulations to Cade Mays (Senior, OT) for winning Tennessee Titans Mr. Football for the second year in a row this week! TSSAA announced the winners of its top individual honor at the 2017 Tennessee Titans Mr. Football Awards luncheon.
Mays was the 4A Lineman of the Year in 2016. He plans to move some hunting paraphernalia to make space for the new trophy next to the old one on his dresser. Monday's event made it real for Mays that his high school career is coming to a close. "It's unbelievable that I've been here three years in a row and come away with two trophies," he said. "It's a good feeling."
TSSAA no longer recognizes a lineman and back of the year in each class — it got to be too many awards with nine classes. Mays suggested some linemen who deserve recognition won't get it now, but also said the awards hold more stock with fewer given. "Some could argue it's good, some could argue it's bad," he said. "Me personally, it doesn't really matter to me. I won."
Mays hadn't heard his stats before they were read out in his introduction Monday. He made 75 pancake blocks and rushed for two touchdowns in short yardage situations in the regular season. He and Catholic will take on Beech in the 5A state final at 7 p.m. Thursday.