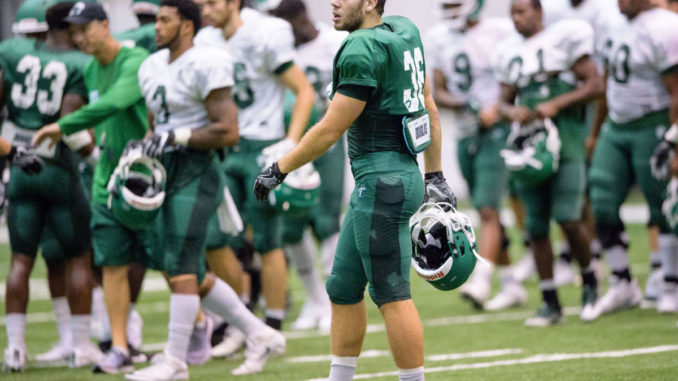 The first time Oklahoma had the ball against Tulane on Saturday, freshman safety Chase Kuerschen caused a fumble that got the defense off the field.
The first time Tulane had the ball, freshman guard Corey Dublin made a series of blocks that kept the offense on the field until it scored a touchdown.
Neither one of them was intimidated by the atmosphere or the No. 2-ranked opponent at Oklahoma Memorial Stadium. They just played the way they were taught as the two obvious standouts from a freshman class that is far exceeding its subpar recruiting rating.
Coach Willie Fritz never cared that his second Tulane recruiting class was ranked 90th in the nation by Rivals.com, 104th by Scout.com and 111th by 247Sports in February. The first three weeks of the season have proven his analysis was better than theirs.
"We signed a really good freshman class," he said Wednesday. "These guys are all going to have a chance to play for us. Some of them are starting this year. Some of them are going to start for sure next year and the year after. It's really helped our depth having quality players."
The list of freshman factors goes well past the two starters.
Cameron Sample has six tackles as a key backup at defensive end.
Defensive lineman Patrick Johnson has made a tackle in each game.
Nickelback Tirise Barge forced a fumble in the final seconds against Oklahoma.
Running back Stephon Huderson has 11 carries for 44 yards.
Quarterback Khalil McClain played the final five series against Oklahoma and has taken reps in practice this week alongside Jonathan Banks and Johnathan Brantley.
But for now, the impact players are Kuerschen, Dublin and Sample, a trio of two-star recruits whom few foresaw as immediate contributors.
Kuerschen started at Oklahoma in place of injured strong safety Roderic Teamer, who returned to practice this week. Regardless of whether Kuerschen starts against Army on Saturday, he is ticketed for a major role. Two weeks ago, he made eight tackles two weeks ago against Navy, the Black Knights' triple-option cousin.
"I really like our scheme against them," Kuerschen said. "It really puts the safeties in position to make a lot of tackles. You just have to be disciplined, and it's definitely good to have that start under my belt. It will help me in the games to come."
He handled the pressure of starting at Oklahoma with aplomb. He was not perfect — no one can be in a 56-14 loss — but held his own against a supremely talented offense, finishing with six tackles.
"He's got a lot of poise and plays hard," Fritz said. "There was a lot of action (against Oklahoma). He missed a few, but he also made quite a few. Going against a top-notch team, it was a great learning experience, and he did a good job."
Dublin fared even better. He helped the offensive line open up some huge holes on Tulane's first three possessions, prompting Oklahoma defensive coordinator Mike Stoops to become apoplectic in the press box.
The Sooners adjusted, but Dublin — the first Tulane true freshman offensive lineman to start a season opener since 2007 — has graded in the same range as experienced starters Junior Diaz and John Leglue through three games.
That's doubly impressive for a guy who received little recruiting interest outside of Tulane before Georgia Tech made a last-minute pitch.
"I feel like I'm playing well," Dublin said. "The older guys have really helped me adjust, and the running backs are doing an amazing job. We make the holes, and they are running through them."
Sample, a 6-foot-4, 265-pounder from Shiloh, Georgia, is a hole-filler. He turned 18 on Wednesday but looked nothing like a 17-year-old in his first three games, when his highlights were stuffing a Navy run for a 2-yard loss and teaming with linebacker Rae Juan Marbley to stop an Oklahoma play a yard behind the line.
Sample was rated three stars by Rivals.com, but his recruiting interest dovetailed with his two-star ratings by the other sites. He de-committed from Georgia Southern to sign with Tulane and did not have any other offers from American Athletic Conference schools.
Their mistake was Tulane's gain.
"He's a stud," Fritz said of Sample. "He's highly intelligent, assignment sound, easy to coach and competitive. He gets better every day. He's going to be a big-time player for us."
As Published by The New Orleans Advocate